We used to live about 10 minutes from work--by car. You would think we could walk the 2.5 miles, but no, it's just too far to go home for lunch. The idea was to ride a bike, but it's almost all busy streets, so we got lazier and lazier, and both of us were driving to work, at the same place but different times.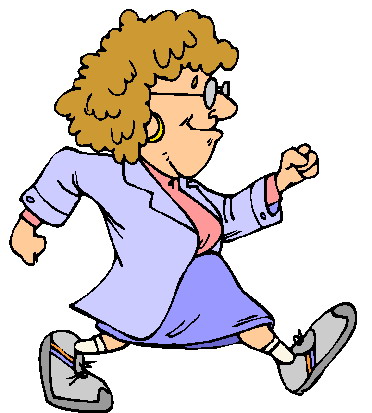 I did at least park the car in the far end of the parking lot...sort of. A diagonal line would have been further than the straight line to the front door.
After two years we made a big decision. We moved to an apartment three blocks from work, listed a car for sale, and now we walk to work! There is a Curves about the same distance away and I am considering joining. There are other options a little further away, but why drive?
For more fun clip art....
So a few nights ago we babysat for friends on the next street over, and what did we do? We both drove! There was a good excuse, though. My husband came from cleaning the old house and had a carload of stuff to haul. As for me...well, walking in any weather is my goal, but I hadn't considered severe thunderstorm warnings...and that was after I waited out the tornado warning.
I love the midwest! I really do. Summer weather is so much more exciting here. I'll just have to walk the rest of the time.